The RCV rotating cylinder engine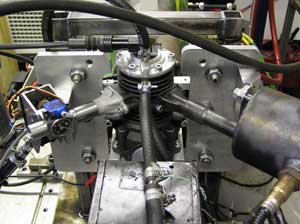 RCV 35cc UAV JP8 engine under dynamometer test, from http://www.rcvengines.com
Rotating cylinder engines: an introduction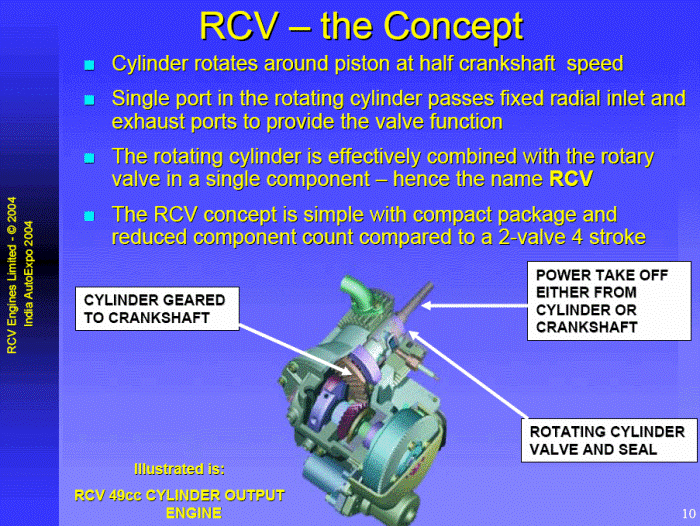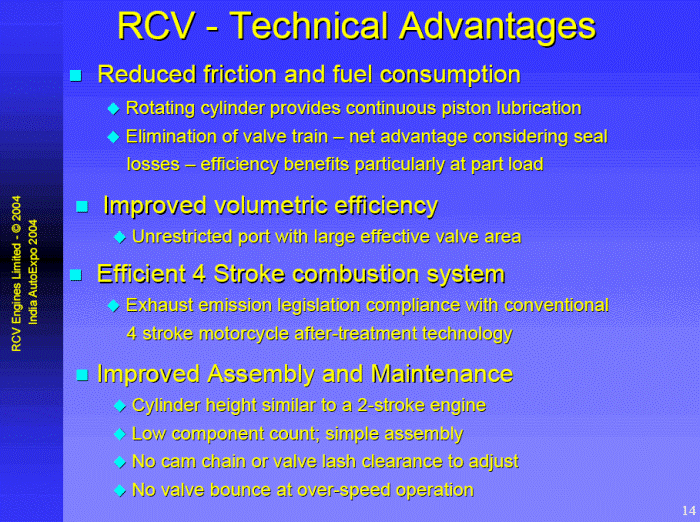 RCV rotating cylinder engines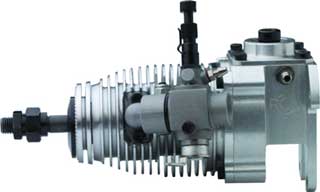 RCV engine information from http://rcvengines.com/rcv_modelhome.htm
| | | | |
| --- | --- | --- | --- |
| capacity in cc | power output in kWatts | kW / kg | J/ccfam |
| 10 | 0.670 at 5,400 rpm | 1.175 | 0.744 |
| 15 | 1.120 at 5,400 rpm | 1.427 | 0.830 |
| 20 | 1.340 at 5,400 rpm | 1.34 | 0.744 |
Notes
All RCV engines use "glow fuel" : methanol + 10 % nitromethane + 15% minimum synthetic castor oil lubricant.
J/ccfam = energy in Joules per cc of fuel-air mixture
For RCVxx-CD, J/ccfam = ( power_in_watts x 60 x 2 ) / (capacity_in_cc x rpm ) = measure of energy efficiency
New RCV engine

from http://www.sae.org/aeromag/techupdate/09-2006/2-26-8-5.pdf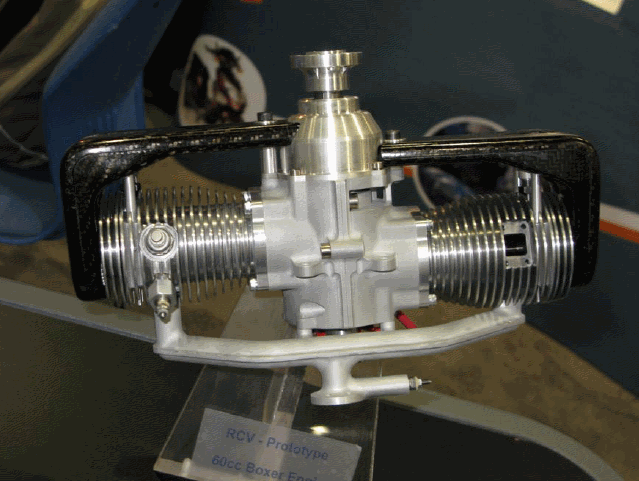 An engine prototype displayed at the AUVSI Conference 2008 in San Diego.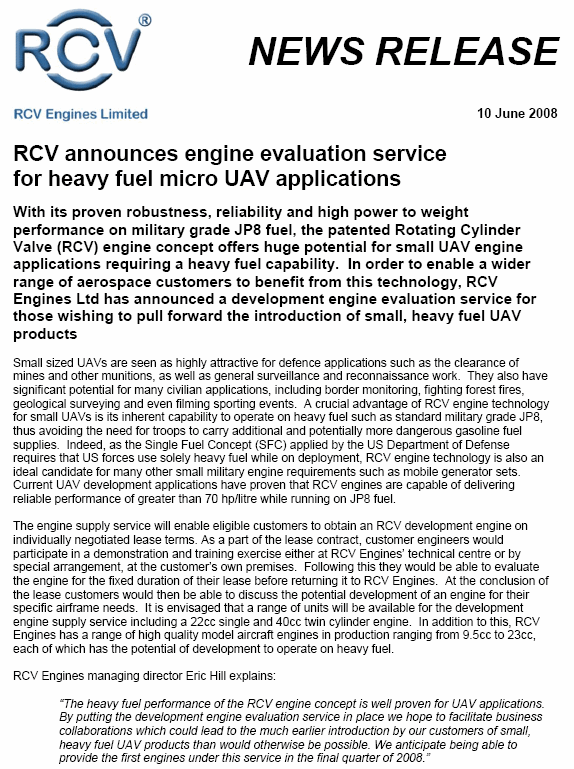 RCV engines for UAV applications - Heavy Fuel, JP8, JP5
The RCV engine is particularly suited to UAV applications because it runs extremely well on heavy fuels, typically generating the same power levels that it does on gasoline. The excellent JP5/JP8 running characteristics, are due to the compact combustion chamber and high internal turbulence levels, generated by the large squish area, sharp valve edges and rotating cylinder.
RCV have developed and patented a reliable cold start system, for use with heavy fuels.
Benefits include:
High power density
Low BSFC for long endurance missions
Excellent JP8 performance
Ultra compact size
Suitable for ducted fan operation
These engines are designed to give low Brake Specific Fuel Consumption (BSFC) at part throttle:
| | | | |
| --- | --- | --- | --- |
| Observed on general RCV engines | Fixed valve timing and compression engine (JP-8) | Variable valve timing and compression engine (JP-8) | Typical conventional automotive |
| 82 KW / litre | 82 KW / litre | 82 KW / litre | 75 KW / litre |
| 630 g / KW | < 350 g / KW | < 400 g / KW | 500 - 600 g / KW |
| 290 g / KWhr | 270 g / KWhr | 270 g / KWhr | 300 g / KWhr |
| | 396 g / KWhr | 331 g / KWhr | 440 g / KWhr |
Downloads