The General Atomics "Predator MQ-1" UAS
---
The MQ-1 Predator is a system, not just an aircraft. A fully operational system consists of four aircraft (with sensors), a ground control station, a Predator Primary Satellite Link, and approximately 55 personnel for deployed 24-hour operations.
The basic crew for the Predator is one pilot and two sensor operators. They fly the aircraft from inside the ground control station via a line-of-sight data link or a satellite data link for beyond line-of-sight flight. The aircraft is equipped with a color nose camera (generally used by the pilot for flight control), a day variable-aperture TV camera, a variable-aperture infrared camera (for low light/night), and a synthetic aperture radar for looking through smoke, clouds or haze. The cameras produce full motion video while the SAR produces still frame radar images.
The " M" is the Department of Defense designation for multi-role and " Q" means unmanned aircraft system. The " 1" refers to the aircraft being the first of a series of purpose-built remotely piloted aircraft systems.
- from http://www.af.mil/factsheets/factsheet.asp?fsID=122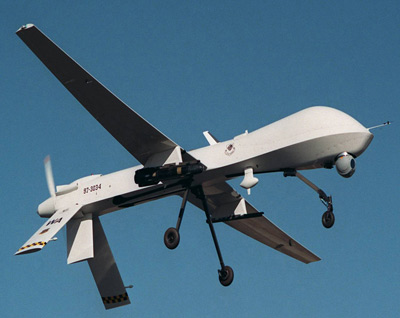 from http://science.howstuffworks.com/predator.htm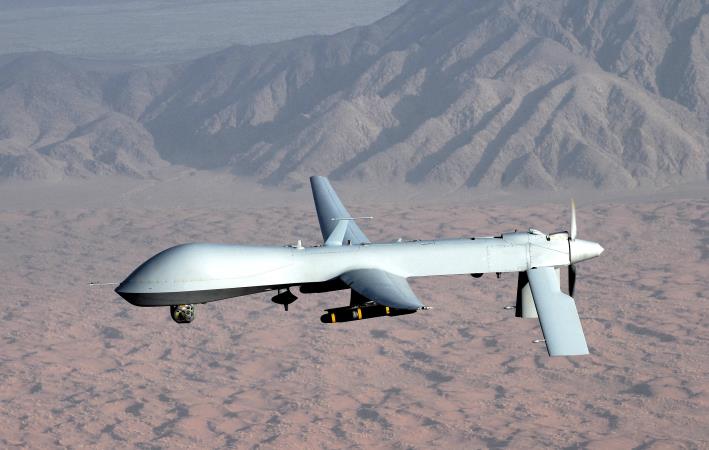 from http://en.wikipedia.org/wiki/RQ-1_Predator
Predator Data used in UA Design Guidelines
| | |
| --- | --- |
| wingspan | 14.84m |
| length | 8.14m |
| take off weight | 1020kg |
| frame weight | 407.1kg |
| fuel weight | 302kg |
| payload weight | 204kg |
| avionics weight | 30.2kg |
| engine capacity | 1211cc |
| endurance speed | 130kph |
| cruise speed | 130Kph |
| max speed | 218Kph |
| max altitude | 25,000ft |
| endurance | 24hrs |
| operational range | 740km |