The Elbit Systems "Hermes 450" Unmanned Aircraft System
---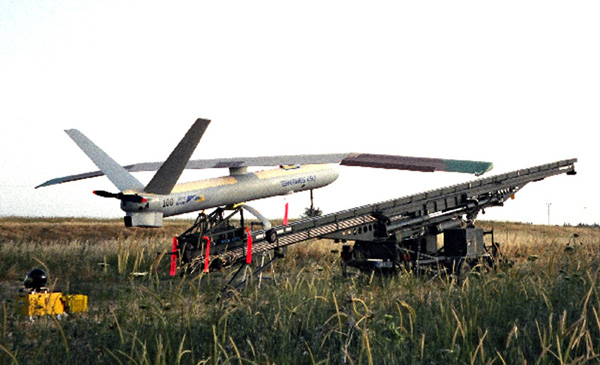 from www.israeli-weapons.com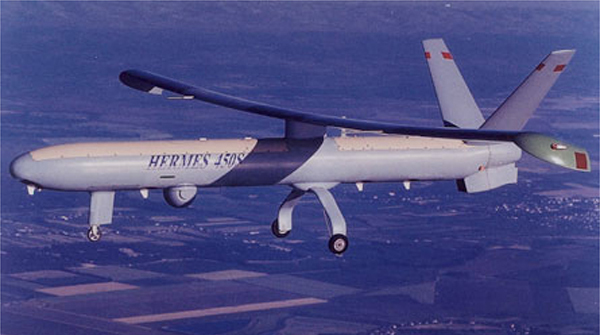 from www.israeli-weapons.com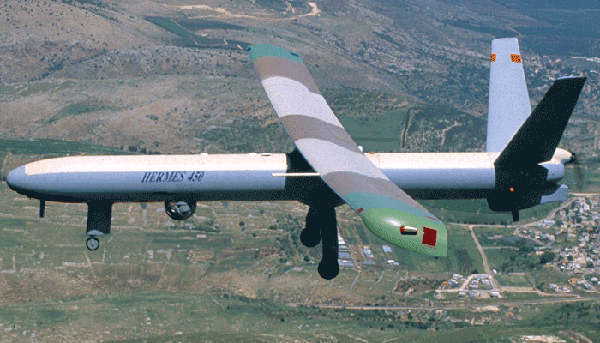 from www.israeli-weapons.com
The "Hermes 450" on border patrol
from www.israeli-weapons.com
Elbit's wholly-owned subsidiary, EFW Inc., based in Fort Worth, Texas, is providing the Department of Homeland Security, Customs and Border Protection (CBP) its Hermes 450 Unmanned Air Vehicles (UAV) along Arizona's southern border as part of the Arizona Border Control Initiative (ABCI).
Under the CBP lease contract, EFW and Elbit Systems provide UAV's, ground control stations, operational crews and support personnel for UAV flight support of border patrol operations. This initial pilot program, which is focused on the Arizona border with Mexico, may be extended into next year and may be expanded by CBP to include the northern US border with Canada.
The ABCI initiative is intented to provide improved surveillance along the Mexican border for various homeland security applications, including illegal immigration and drug smuggling. The UAVs will supplement manned aircraft and ground sensors with flight operation scheduled for the summer of 2004. The Hermes 450 Unmanned Air Vehicles are equipped with electro-optic sensors and communications payloads providing day and night imagery to Customs and Border Protection ag
As of July 20, 2004, there have been 42 apprehensions directly attributable to UAV surveillance. While every case may not be as dramatic, the following example, reported by The Arizona Republic, clearly demonstrates the UAV's ability to track in remote areas, strategic use of resources, and enhanced officer safety.
On July 24, 2004, a Border Patrol UAV assisted in a border arrest. A Fort Huachuca police officer was chasing a suspect who was driving in a stolen truck. The suspect turned down a dirt road, running the officer off the road. The officer called the Border Patrol for back-up. The Border Patrol's Hermes 450 UAV spotted the pickup truck on a remote dirt road and tracked it.
The Elbit Systems "Hermes 1500" Unmanned Aircraft System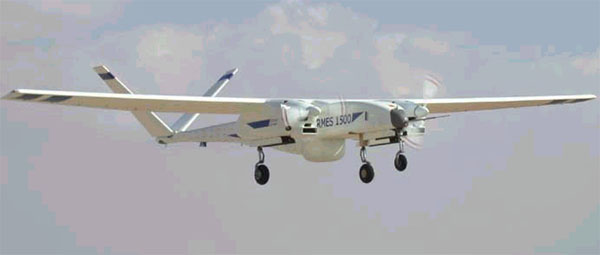 from www.israeli-weapons.com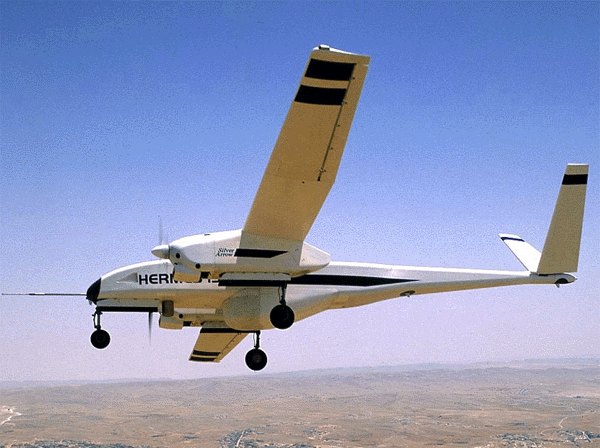 from www.israeli-weapons.com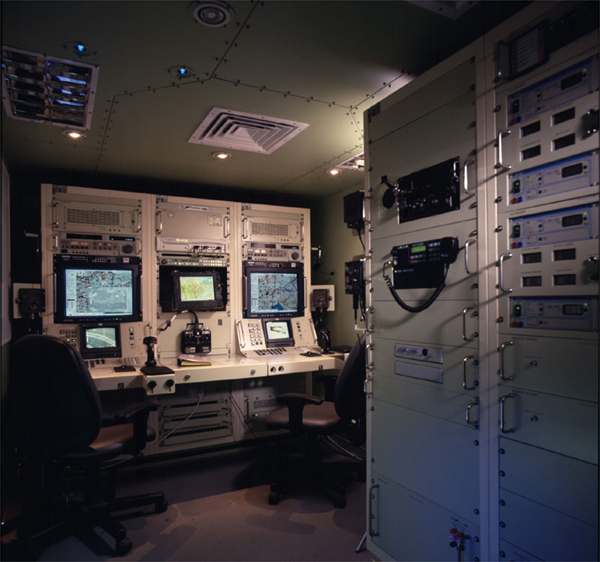 from www.israeli-weapons.com
Hermes 450 data
| | |
| --- | --- |
| wingspan | 10.5m |
| length | 6.1m |
| take off weight | 450kg |
| frame weight | 159.1kg |
| fuel weight | 105kg |
| payload weight | 150kg |
| avionics weight | 10.5kg |
| engine capacity | 294cc |
| endurance speed | 70kph |
| cruise speed | 130Kph |
| max speed | 176Kph |
| max altitude | 18,000ft |
| endurance | 20hrs |
| operational range | 200km |
Hermes 1500 data
| | |
| --- | --- |
| wingspan | 18m |
| length | 9.4m |
| take off weight | 1650kg |
| frame weight | 486.6kg |
| fuel weight | 600kg |
| payload weight | 350kg |
| avionics weight | 60kg |
| engine capacity | 2422cc |
| endurance speed | 126kph |
| cruise speed | 150Kph |
| max speed | 241Kph |
| max altitude | 33,000ft |
| endurance | 26hrs |
| operational range | 200km |