Solar powered Unmanned Aircraft
---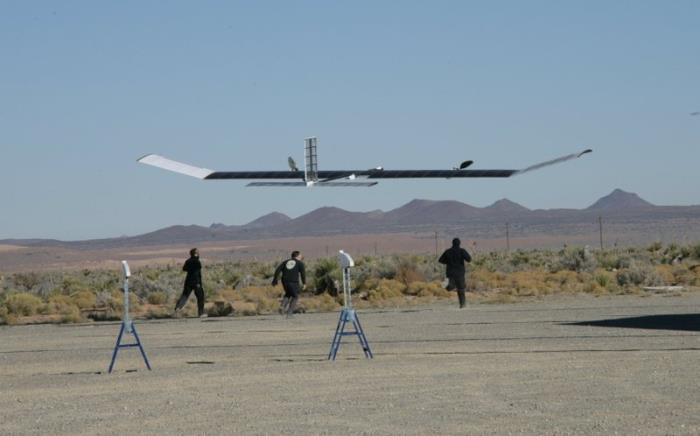 From http://thefraserdomain.typepad.com/
Solar-powered drone stays aloft for two weeks, breaking endurance records
27 December, 2010
A lightweight, solar-powered drone with a massive 73-foot wingspan flew above the clouds for 14 days straight, shattering long-standing aviation endurance records, according to the Fédération Aéronautique Internationale.
The international governing body for aeronautics confirmed last week that the solar-powered robotic plane, dubbed Zephyr, soared above the U.S. Army's Yuma Proving Ground in Arizona from July 9 to July 23.
Built by British defense contractor QinetiQ, the drone's 336 hour, 22 minute flight crushed the previous endurance record for a robotic plane, which was held by Northrop Grumman Corp.'s Global Hawk drone. That unmanned flight, which took place in March 2001, lasted 30 hours and 24 minutes.
The Zephyr's flight also marked the longest time an airplane flew without refueling. The previous mark was set in December 1986 by the Rutan Aircraft Factory's Voyager and its milestone of 216 hours and three minutes. The Voyager, which had a pilot in the cockpit, was the first plane to travel around the world without stopping or refueling.
The Zephyr, which resembles an oversized version of those balsa wood gliders you threw at classmates in grammar school, was remotely piloted and carried British military communications equipment.
With the help of five people, it was hand-launched from the Yuma test range and climbed to an altitude of more than 70,000 feet using solar panels on the plane's wing. QinetiQ is hoping that the flight will help it land a large order for the spy plane, which it touts as being capable of "tracking pirates in the Gulf of Aden, detecting bush fires in Australia, and improving battlefield communications and surveillance in Afghanistan."
From http://latimesblogs.latimes.com/technology/2010/12/zephyr-long-endurance-drone-qinetiq.html
Solar UAV Breaks World Record for Longest Unmanned Flight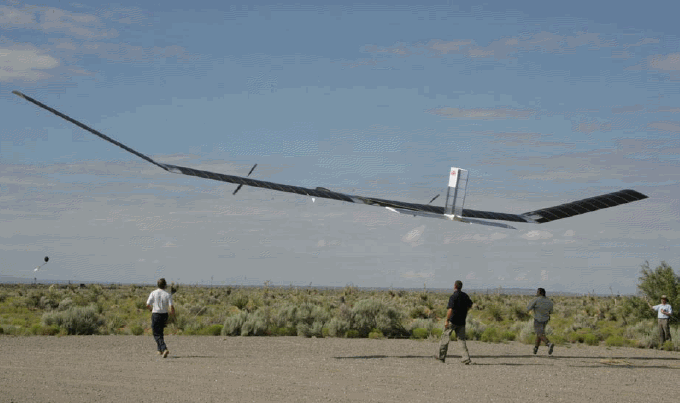 from http://www.qinetiq.com/home/newsroom/2007/3rd_quarter/qinetiq_s_zephyr_uav.html
10 September 2007 - QinetiQ's Zephyr High Altitude Long Endurance (HALE) Unmanned Aerial Vehicle (UAV) has exceeded the official world record time for the longest duration unmanned flight with a 54 hour flight achieved during trials at the US Military's White Sands Missile Range in New Mexico. The flight trials were funded through the Ministry of Defence (MOD) research programme.
The duration of the flight exceeded the current official FAI world record for unmanned flight which stands at 30 hours 24 minutes set by Northrop Grumman's RQ-4A Global Hawk on 22 March 2001. However because there was no FAI official present at White Sands it may not stand as an official world record.
Launched by hand, Zephyr is an ultra-lightweight carbon-fibre aircraft with a wingspan of up to 18 metres but weighing just 30 kg. By day it flies on solar power generated by amorphous silicon arrays no thicker than sheets of paper that cover the aircraft's wings. By night it is powered by rechargeable lithium-sulphur batteries that are recharged during the day using solar power.
The trials validated recent modifications that have improved the efficiency of Zephyr's power system. These have included new solar arrays supplied by United Solar Ovonic, a full flight-set of Sion Power batteries as well as a novel solar-charger and bespoke autopilot developed by QinetiQ, all of which were being flown for the first time. During the trials the same aircraft was flown twice while carrying a surveillance payload – first for 54 hours to a maximum altitude of 58,355 feet, and then for 33 hours 43 minutes to a maximum altitude of 52,247 feet.
Paul Davey, Zephyr business development director at QinetiQ , said: " The possibilities suggested by unmanned flight are truly exciting and with these trials Zephyr has secured its place in the history of UAV development. Both flights were achieved in the face of thunderstorms and debilitating heat in the hostile environment of the New Mexico high desert in the summertime. They have proved that an autonomous UAV can be operated on solar-electric power for the duration required to support persistent military operations."
Potential applications for Zephyr include earth observation and communications relay in support of a range of defence, security and civil requirements.
Zephyr has demonstrated consistent progress during a series of flight trials at White Sands Missile Range. In December 2005 two aircraft achieved a maximum duration of 6 hours and an altitude above 26,000 feet. The maximum flight duration was trebled to 18 hours and the maximum altitude increased to 36,000 feet at subsequent trials at the missile range in July 2006.
from http://www.greenprogress.com/transportation_article.php?id=1280&ref=rss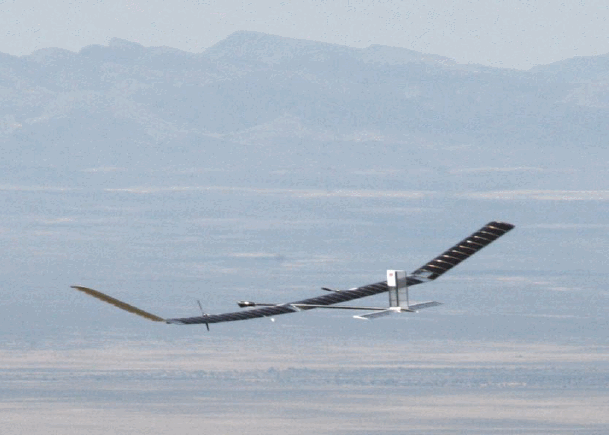 from http://www.qinetiq.com/home/newsroom/2007/3rd_quarter/qinetiq_s_zephyr_uav.html
QinetiQ reveals details of Zephyr UAV's record flight
13 September 2007, by Andrew White
Zephyr, the UK Ministry of Defence's (MoD's) and QinetiQ's High Altitude Long Endurance (HALE) unmanned aerial vehicle (UAV), has completed a record 54-hour flight complete with a camera payload, as it bids to become the first system to provide 'persistent' operational support to UK forces.
Conducted at the White Sands Missile Range in New Mexico in July, tests saw the 30 kg UAV complete " two day and night cycles" at an altitude of 58,355 ft, using its 18 m wingspan - coated with sheets of amorphous silicon arrays - to generate solar power, QinetiQ revealed.
A second test saw Zephyr complete a 33-hour flight at an altitude of 52,000 ft. Tests proved a number of recent modifications made by QinetiQ designed to increase Zephyr's efficiency, including new solar arrays from United Solar Ovonic Sion Power batteries a new solar charger and QinetiQ's bespoke autopilot system. During dark hours, Zephyr is powered by rechargeable lithium-sulphur batteries.
The successful completion of the test marks the end of the MoD's research programme for the project and signals its transition to an equipment programme, QinetiQ's Zephyr business development director, Paul Davey, told Jane's.
from http://www.janes.com/news/defence/idr/idr070913_1_n.shtml
Solar Powered UAV
23 March 2006
From http://thefraserdomain.typepad.com/energy/2006/03/solar_powered_u.html
QinetiQ, Europe's largest science and technology organization, has completed the first flight trials of Zephyr - a High-Altitude, Long-Endurance Unmanned Aerial Vehicle (UAV) that has a 12 meter wingspan but weighs just 27 kilograms.
The trials took place at the White Sands Missile Range, New Mexico, USA. Two aircraft were flown for four and a half and six hours respectively, the maximum flight times permitted under range restrictions. The maximum altitude attained was 27,000 feet above sea level.
QinetiQ believes that stratospheric platforms will rapidly become commercially viable and revolutionize future communications. High altitude platforms of this sort could provide a cheaper alternative to satellites in remote areas and developing countries. They can also enable observation of natural disasters and humanitarian crises. The ultra-light aircraft is solar-electric powered, autonomous and is designed to fly at altitudes as high as 132,000ft (40km), above normal commercial air-lanes and most weather. The platform is capable of continuous operation through the use of solar power and low drag aerodynamics. The combination of solar panels on the upper wing surface and rechargeable batteries allows Zephyr to be flown for durations of many weeks and even months. United Solar Ovonic's lightweight solar cells have been incorporated into the Zephyr which is powered by approximately 1 kW of United Solar's lightweight thin film PV.
QinetiQ's Zephyr UAV achieves flight record
14 August 2006
QinetiQ's Zephyr High Altitude Long Endurance (HALE) solar powered Unmanned Aerial Vehicle (UAV) has achieved its longest flight to date during a set of flight trials at the White Sands Missile Range in New Mexico at the end of July. One of the three aircraft flown in the trials flew for 18 hours, including 7 hours of flying in the dark, the first time Zephyr has flown at night. The aircraft flew using solar power for the ascent, reverting to battery power as dusk fell.
Zephyr is an ultra-lightweight electrically powered aircraft, with a wingspan of up to 16 metres but weighing less than 30 kg. The aircraft uses a combination of solar array and rechargeable batteries and, when fully developed, is expected to operate for months at a time at an altitude above 50,000 feet providing a sustained and persistent earth observation platform.
In addition to confirming the anticipated flight performance, the trials demonstrated a suite of payloads flown onboard two of the aircraft. The UAV platform was successfully used for the first time as a communications relay, demonstrating capability beyond line of sight between handsets on the ground at significant distances in mountainous terrain. A number of different electro-optical and infra-red payloads were also successfully operated, providing a mix of images and video transmitted from the aircraft in real time.
Zephyr has been developed by QinetiQ under a jointly funded programme with the UK Ministry of Defence (MOD). Lord Drayson, Minister for Defence Procurement, praised the Zephyr programme during his key note address at the recent Farnborough International Air Show, describing it as "a truly unique capability".
Paul Davey, Zephyr development director at QinetiQ, said: "I am delighted by our recent flight achievements. The latest trials have validated the design goal for long endurance operations at altitudes above the weather and air traffic and support our goal of being able to offer an operational low cost persistent military capability from 2008."
In addition to supporting defence and security requirements, Zephyr is an ideal platform for a variety of civilian mapping, earth observation and atmospheric sensing applications, for example for pipeline, crop and forestry fire monitoring, fisheries protection and border control.
Two Zephyr aircraft were first trialled at White Sands in December 2005, achieving a maximum duration of 6 hours and an altitude above 26,000 feet. Both aircraft were successfully recovered and subsequently reflown in the recent July trials. The principal aims of the latest trials were to extend significantly the flight envelope and to demonstrate payload capability. Both were achieved - the maximum flight duration was trebled and the maximum altitude increased by a further 10,000 feet to 36,000 feet.