Warrior Aero Gull36 unmanned seaplane heads for the open sea
---
from http://www.shephardmedia.com/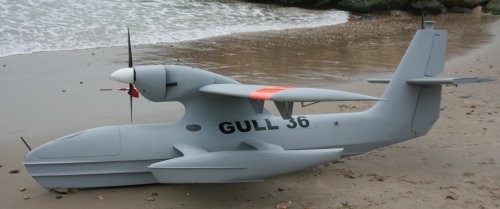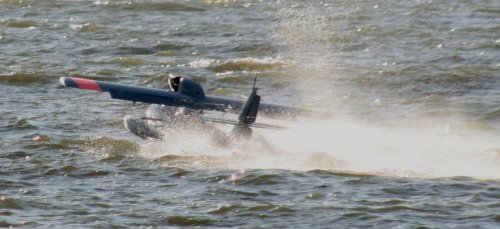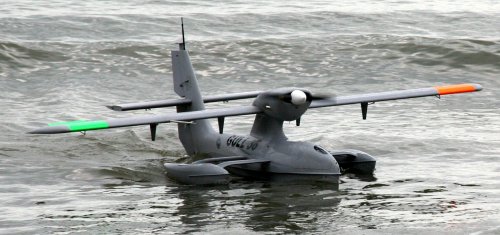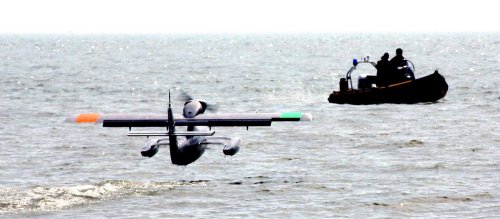 Images from http://www.warrioraero.com/GULL/index.htm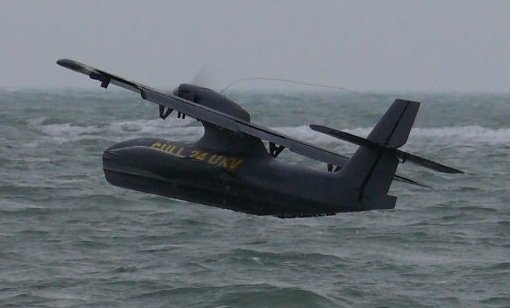 Warrior (Aero-Marine) Ltd has commenced flying of the first 4.0m span GULL 36 UAV in the English Channel.
This is the first formal work achieved by the new generation of stepless seaplane hulls developed by Warrior. These patented designs reflect the revolution in slender-hulled surface craft design in the last 20 years, improving performance and enabling Warrior's seaplanes to handle twice as large waves as equivalent seaplanes.
James Labouchere, CEO states: "Both the hull and configuration contribute to the GULL working effectively in common sea conditions. The wave-piercing ability enables useful taxi speeds for surface operations and the GULL uses wave profiles to its advantage for take-off."
New opportunities arise from combining boat functions and aircraft cruise performance, and switching spontaneously between aerial and surface functions. This combination enables surface work to be achieved at higher speeds than any vessel. Greater effect is won by switching spontaneously between air and surface, to bring multiple payload types to bear on more targets in a wider range of circumstances.
These attributes offer exceptional capabilities for sampling, persistent tracking and observation of surface and subsurface targets. They will also enable fast remote insertion/extraction of small secondary unmanned surface and underwater vessels.
Combined with its use from lake, river and shore, and dirt strips with amphibious gear, the GULL is expected to achieve tasks that currently need multiple vehicle types and complex communications. In doing so, the GULL will enable a robust multi-role solution with a minimum of communications and one-stage data processing, to then transmit usable information and instruction.
The interface of UAVs with ships remains generally problematic, requiring unwelcome launch and recovery equipment on deck. Solutions are also needed to enable UAVs to operate without imposing on other aerial assets and without requiring ships to change course or speed.
With UK Defence Technology Centre R & D funds, Warrior has developed and trialled, at reduced scale, a towed-sled Launch and Recovery System, SledLARS. The SledLARS can be launched and retrieved from either the beam or stern of a parent vessel and can automatically release and recover a fast-taxiing seaplane UAV (or a USV). This can be done while under high speed tow and on any point of wind.
This removes the need for deck-mounted equipment for either launch or recovery, enables the GULL to be operated from both small and large vessels and allows ships' other aerial activities to continue simultaneously with little or no interference.
James Labouchere says: "The GULL is the first UAV seaplane that has been conceived and developed for both the coastal and offshore environment. No other published concept that we have seen can even approach the GULL's combination of performance and seamanship."
Warrior has designs into which manufacturers of mature UAV systems can integrate their engineering. This is anticipated by Warrior to be a low-risk process and the results will be systems that greatly simplify achieving maritime objectives, and bring valuable new objectives within reach.
Warrior is developing the GULL and related platform systems for open market licensing or partnering with system providers in both commercial and defence applications.
www.warrioraero.com
Unmanned sea plane takes off
Tracy Staedter, Discovery News
from http://dsc.discovery.com/news/2007/12/27/unmanned-seaplane.html
Dec. 27, 2007 -- For the first time, scientists have engineered an unmanned seaplane that can take off and land, independently, on water.
The Flying Fish autonomous vehicle, like its namesake, dwells mostly in the water. When the time comes, it takes off and flies over the waves at distances of tens to thousands of feet.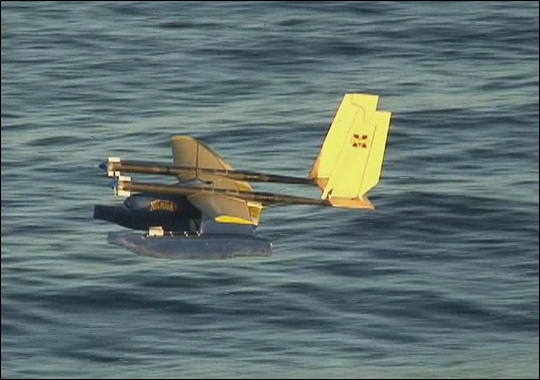 The Flying Fish The University of Michigan
Flying fish were the inspiration for an unmanned seaplane, pictured here, with a 7-foot wingspan. Developed at the University of Michigan, the autonomous craft is believed to be the first seaplane that can initiate and perform its own takeoffs and landings on water.
Equipped with GPS and eventually energy-harvesting solar cells, the UAV has the potential to expand the kinds of water-monitoring tasks currently limited by the expense of a ship or by the stationary nature of water buoys.
For example, a fleet of the autonomous crafts could be sprinkled across an ocean region, each gathering data in its own designated circle. When a plane reaches the edge of its circle, it could take off, fly to the opposite side of the monitoring area, land, and begin taking measurements again.
"They live in the water. They don't need a structure to be launched from or landed on and that makes them more independent," said team member Ella Atkins, associate professor of aerospace engineering and associate professor of electrical engineering and computer science at the University of Michigan.
The project is led by Guy Meadows, director of the university's Marine Hydrodynamics Laboratories and funded by the Department of Defense's Defense Advanced Research Projects Agency as part of its "persistent ocean surveillance" program, which will result in a floating field of smart sensors designed to observe the undersea environment.
In a recent sea trial demonstration, the 20-pound craft used GPS and an onboard computer to take off and land in the water 22 times.
Although the seaplane's electric engine currently gets it power from a battery, the team hopes to add alternative energy harvesting equipment, such as solar panels. That could make the UAV "drop and go."
"If you can only deploy it for a few hours, you need ship there anywhere. Solar power is the key to being able to drive your ship away," said Atkins.
And that can save money. According to Hanumant Singh, an associate scientist who specializes in underwater imaging and robotics at Woods Hole Oceanographic Institute in Woods Hole, Mass., a ship can cost $35,000 a day.
The Gull range of UAV sea planes
from http://www.centaurseaplane.com/news.htm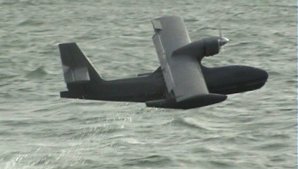 Warrior is developing the GULL series of unmanned platforms, which combine the abilities of both aerial vehicles (UAVs) and surface vehicle (USVs), in one "UXV" - this term being used increasingly by military and civil customers.
The GULL does not need either a prepared airstrip or launch/recovery equipment, using its robust STOL capability for water or field operations.
The GULL increases the range of maritime surface operations and decreases the time to achieve them. Its ability to switch between aerial and surface roles both increase effectiveness and reduce costs of achieving current and extended maritime functions.
These capabilities remove requirements for costly multiple interconnected systems and enable front-line organic operation in almost any circumstances. They thus have very positive implications to the acquisition of an unmanned system, whether operated from in land, shore or ship.
Quick response, long-range surface operations. With their high cruise efficiency in relation to helicopters and surface vehicles, GULL UAVs enable quick-response long-range surface operations that are currently too risky or have not previously been possible or cost-effective.
Precision payload delivery. The GULL can carry devices or supplies to precise coastal, maritime, or fresh water locations.
Long surface dwell capability. The GULL can serve long endurance missions with the ability to hold position on water for sustained periods, performing persistent surveillance and detection roles.
Covert operations with minimum radar signature. With the ability to land offshore and approach hostile situations stealthily, and with less noise and minimal radar signature in relation to rotorcraft, covert operations can be significantly more effective and successful.
Multiple surface waypoints. The GULL has the ability to land and function at a series of waypoints on water in any single operation, increasing versatility and effectiveness.
Amphibious operations. Where land-based as well as water operations are required a retractable undercarriage may be fitted to provide a fully amphibious capability.
Multitasking benefits. The GULL can perform several functions in series in a single operation, from high speed cruise, to slow high aerial loiter, to close inspection for identification, to (landing on water) persistent surface-based observation or detection (using above and below surface sensors), then airborne again to relocate.
The Oregon Iron Works sea plane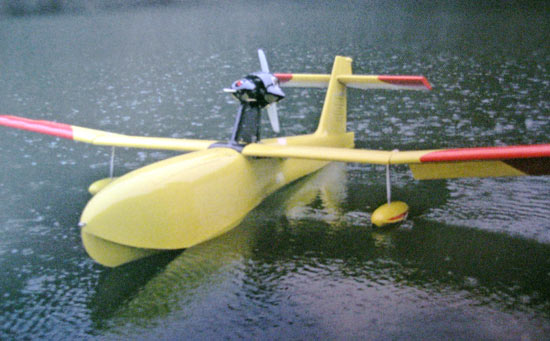 The Sea Scout, from http://news.com.com/2300-1008_3-6182450-4.html?tag=ne.gall.pg
The Sea Scout, featured at this year's Navy Opportunity Forum, is the first successful auto-piloted seaplane, according to Oregon Iron Works, the Portland, Ore.-based company that devised it. The canary yellow unmanned craft, which weighs in at 350 pounds and can carry 35 pounds of payload, has successfully taken off and landed on water surfaces.
Constructed from composite aluminum, the Sea Scout has a wingspan of 17 feet. But, in the interest of taking up less space on a ship's deck, it is designed to be stored in a standard-size shipping container. It also houses onboard sensors that can measure altitude and wave data to aid in takeoff and landing. It is currently in its flight test phase in Texas and is expected to go into production at the end of 2008.
Credit: Oregon Iron Works
Oregon Iron Works successfully completes first auto-landing test of Unmanned Seaplane
Business Wire, May 30, 2006
PORTLAND, Ore. -- Oregon Iron Works, Inc. (OIW), an innovative small business defense solutions provider, recently completed a successful flight test of the Sea Scout unmanned seaplane in southeast Texas. The flight test included two completely autonomous water landings. " Our research indicates this is the first time a seaplane has ever been auto-landed in the United States," said Josh Pruzek, program manager for the Sea Scout. An on-board LADAR provided altitude and water surface data to the autopilot during the landing approach and touchdown. " Both landings were picture perfect - as good as they get," said Pruzek.
The Sea Scout air vehicle, under development for nearly two years, is the result of a Naval Air Systems Command (NAVAIR) sponsored Phase III Small Business Innovative Research (SBIR) contract. The aircraft was flown at a gross weight of 300 lbs and carried 25 pounds of ballast in order to simulate a payload. A 38 HP Wankel engine powers the 10-foot span air vehicle.
Geneva Aerospace, of Carrollton, Texas, is OIW's technology partner in the development of the air vehicle. Geneva supplied their flightTEK(R) avionics and VACS(TM) guidance and control software necessary to fly the plane. Geneva leveraged their core auto landing technology developed under a separate NAVAIR SBIR program which has been demonstrated in land-based tests earlier this year. OIW believes seaplanes have a viable position in the modern Navy and are developing the craft for EO/ISR and communications relay missions. " With so much of the earth's surface covered in water," remarked Pruzek, " utilizing that surface for take off and landing opens up a tremendous opportunity for unmanned aircraft that previously could not have been supported."
While seaplane technology is not new, there has been little development work in terms of new design in the last half century. The Sea Scout is a spiral development program intended to provide the Navy with a ship-based unmanned asset that minimizes the need for complicated launch and retrieval gear such as catapults and recovery nets. The next steps for OIW include refining the air vehicle aerodynamics and hydrodynamics, as well as expanding the operating envelope of the aircraft, both on the water and in the air.
Oregon Iron Works, Inc. is a cutting edge specialty-manufacturing firm with commercial, marine, aerospace, hydroelectric, and defense manufacturing divisions. Founded in 1944 in Portland, Oregon, the company has been under the same management since 1974. The small business has nearly 400 employees and is now headquartered in Clackamas, Oregon, with additional manufacturing facilities in Vancouver, Washington. For more information, visit www.oregoniron.com.
Geneva Aerospace designs breakthrough technologies for unmanned aerial vehicles, providing unprecedented autonomy and control. The firm offers advanced flight controls, software, systems integration services and complete unmanned aerial vehicle systems. Based outside Dallas, Geneva's extensive client list includes the largest U.S. aerospace companies and government agencies. Learn more at www.genaero.com.