Long distance record for FAI Class F8 model plane
---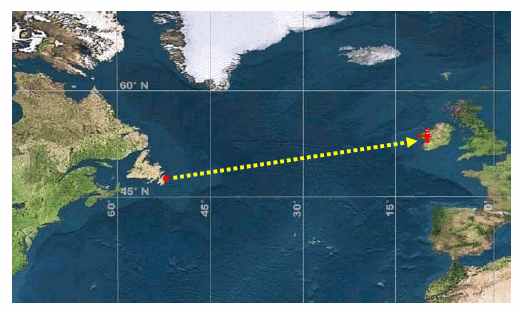 Last reported position of TAM5 is indicated on map by the small red plane.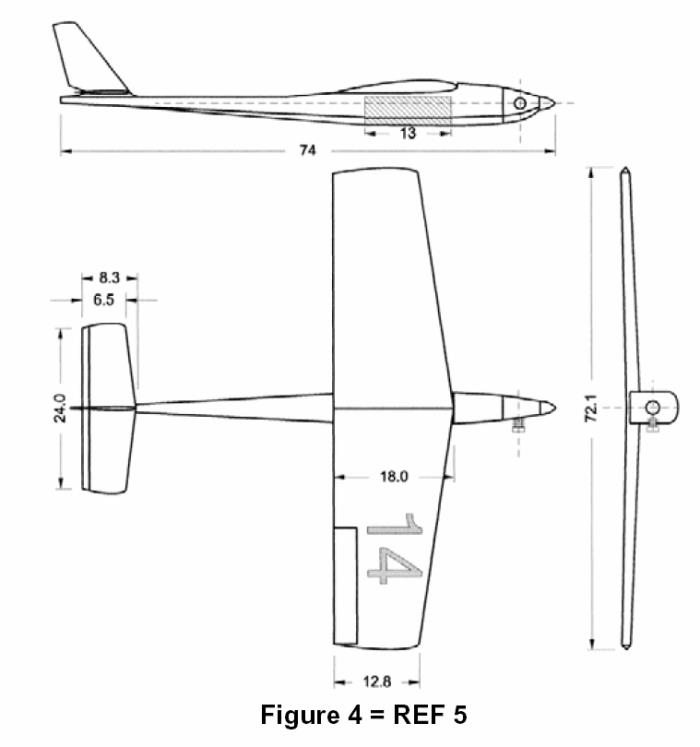 www.modelaircraft.org/museum/bio/Hill.pdf
The TAM 5, the first FAI Class F8 UAV to cross the Atlantic.
The first FAI Class F8 model plane to fly 3,020 Km from Canada to Ireland
Date: 9th August, 2003
A small UAV, called TAM 5, flew 3,020 Km from Newfoundlan in Canada to Stone Bog in Ireland, using GPS guidance, while sending telemetry information back, via satellite. The small plane used its GPS system to fly at an average altitude of 305 m (1,000 feet) above sea level, to avoid ship masts and any other aircraft.
This feat has been mentioned in the BP Frontiers Magazine. Maynard Hill, a UAV pioneer, who used to work at the Johns Hopkins University in the USA continued, after retirement, in his quest for model aeronautic feats and together with a small team of like minded people, developed a small model plane called TAM (Trans-Atlantic Model) 5, which flew 3,020 Km from Newfoundland to Ireland in 38 hours and 23 minutes, using GPS guidance with telemetry communications via satellite and just under 2.2 Kg of fuel...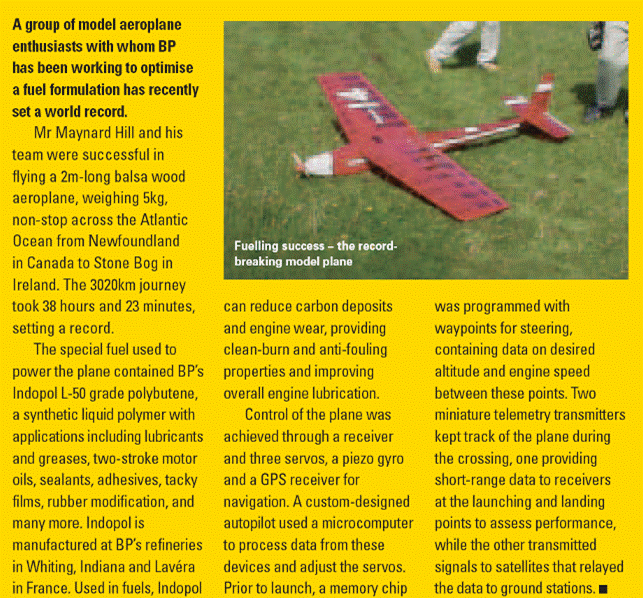 From www.bp.com Frontiers_magazine_issue_09_patents_and_briefs.pdf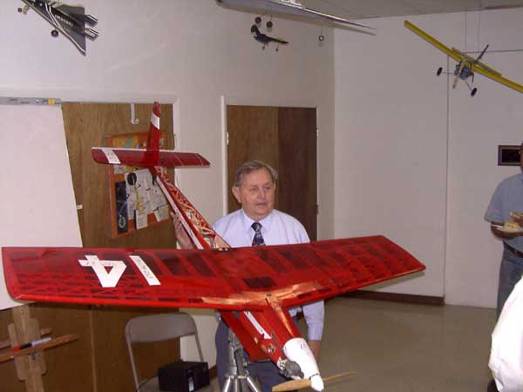 Maynard Hill with TAM5.
Maynard Hill, who also designed the Exdrone UAV while at Johns Hopkins University in the USA, with the first FAI Class F8 model plane that crossed the Atlantic Ocean.
Model plane goes transatlantic
from http://news.bbc.co.uk/1/hi/world/europe/3145577.stm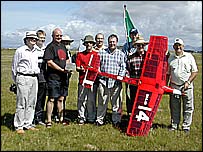 The plane flew at 270 metres over the Atlantic Ocean on autopilot.
An international team of model aeroplane enthusiasts say they have managed the first successful flight by a lightweight remote-controlled plane across the Atlantic.
US, Canadian and Irish engineers worked together to ensure " The Spirit of Butts Farm" - named after its testing site - landed safely in County Galway, Ireland on Monday 11 August, some 38 hours after it took off from Canada.
If the flight is certified by the Federation Aeronautique Internationale, it will break world records for distance travelled by a model aeroplane as well as duration of flight.
In order for the records to be broken, the plane had to weigh less than five kilograms, including its "camping lantern" fuel.
Dave Brown, president of the American Academy of Model Aeronautics, told BBC News Online it had been " pins and needles" waiting for the plane to come into view over the Irish coast.
"When it suddenly appeared over our heads, we were ecstatic," he said.
"We already lost three planes in 2002. We got one of five models this year to travel 500 miles, but they all eventually ended up in the drink apart from this one. This is the first time we've actually done it."The balsa wood and mylar plane flew 3,039 kilometres (1,888 miles) using satellite navigation and an autopilot system overseen by engineers and radio operators using laptop computers.
Doubts
"Then 10 minutes after the team called around to say another attempt had failed, it re-appeared," Mr Brown said.
He established direct radio control of the model after seeing it, before bringing it in for landing close to the designated landing spot on Marrin Beach, County Galway.
Records will be claimed by the team on behalf of Maynard Hill, the plane's designer. Mr Brown said there had been some tense moments, especially when hourly satellite updates pinpointing the plane's whereabouts failed for three hours.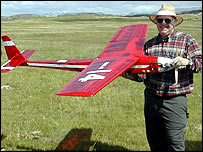 Dave Brown: "The hardest thing was keeping the weight down"
"Maynard is deaf and blind now but we communicated with him as the plane came in via mobile phone to his house in Silver Spring, Maryland using special equipment that enabled him to hear us," Mr Brown said.
// Please read the above note from Les Hamilton to the effect:
This statement contains a couple of errors. First, Maynard was in St. John's, Newfoundland, not Silver Spring, Maryland, when he received the news that TAM-5 had come into view in Ireland. I know, because I was there on August 11, 2003. I answered the phone call from Sally Brown, Dave's wife, who proceeded to describe the action in Ireland during the last minutes of the flight. I repeated her words to the assemblage, which consisted of our team members and spouses, and local supporters. Maynard, seated in an adjacent room, had difficulty understanding my words, so his wife Gay Hill, seated next to him, repeated them for his benefit.
After the landing, Maynard spoke on the phone with Dave Brown. Despite his hearing impairment, Maynard is quite able to use regular phones and cell phones without any " special equipment." //
The retired engineer had already achieved previous remote-controlled plane records for altitude and speed Maynard Hill, 77, had launched the plane from Cape Spear, Newfoundland after working on what became the record-breaking Tam 5 model for 10 years.
TAM 5 data used in the UAV Design Guidelines
| | |
| --- | --- |
| wingspan | 1.9m |
| length | 1.8m |
| take off weight | 5kg |
| frame weight | 1.911kg |
| fuel weight | 2.2kg |
| payload weight | 0.043kg |
| avionics weight | 0.22kg |
| engine capacity | 10cc |
| endurance speed | 78kph |
| cruise speed | 78Kph |
| max speed | 165Kph |
| max altitude | 18,000ft |
| endurance | 38.5hrs |
| operational range | 3020km |