BBC - 'Robots battle for military prize'

For two weeks during the summer of 2008, an army of autonomous robots will march across the Wiltshire countryside.
The machines will compete in the UK Ministry of Defence Grand Challenge, a competition to find new technology to support ground troops in urban areas.
Fourteen teams have now been picked as finalists to go head to head in a range of trials next year.
Winning designs include a swarm of miniature helicopters and a host of sensor-laden unmanned aerial vehicles.
"Technology plays a huge role in our forces, It often makes the difference between success and failure - and sometimes life and death," said Defence Procurement Minister Lord Drayson on announcing the winners.
"The challenge is to produce a semi-autonomous system that can detect, identify, monitor and report a range of physical threats in an urban environment."
The winner of the competition will win the R J Mitchell Trophy, named after the "father of the Spitfire" WWII fighter plane and also funding from the Ministry of Defence (MoD).
The rest of the article can be read at http://news.bbc.co.uk/1/hi/technology/6919271.stm
theguardian - 'Mini-helicopters, flying saucers and robot buggies fight it out for war games prize'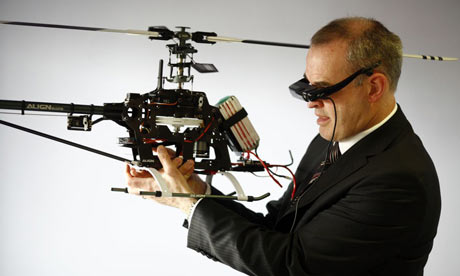 An unmanned aerial still camera helicopter, held by Joseph Barnard. Photograph: Martin Argles
"We call it boys' toys for warfare," bellows Chris Burgess, as the hip-hop act Stromkern roars "Come Armageddon come" from the plasma screen behind him.
On the video a radio-controlled buggy is zipping along a dusty street, its onboard camera swivelling left and right, on the lookout for snipers and roadside bombs that might lie ahead.
Burgess belongs to one of 11 teams unveiled as finalists in the Ministry of Defence's most ambitious - and unusual - attempt to bring hi-tech science to the frontline. Called the Grand Challenge, the £4m project calls on engineers to design a robot that can scour an urban area for enemy combatants and explosives and report back, preferably without human intervention.
Among the finalists are a swarm of tiny helicopters that can peer into windows, a flying saucer, and what looks like a scaled-down version of a JCB. By August the teams, a hotch-potch of defence companies, universities and sixth form colleges, will go head-to-head over three weeks to decide on a winner. The battle will be played out on the streets of Copehill Down, a mock-up of an East German village built in the Wiltshire countryside during the cold war.
The competition will test each robot's ability to go into the village and spot different threats, including snipers, groups of gunmen, armed vehicles and improvised explosive devices or IEDs. Teams will be docked points for missing threats, being slow and targeting harmless civilians lurking among the buildings.
The rest of the article can be read at http://www.theguardian.com/science/2008/may/02/sciencenews.military
The Engineer - 'Robot wars'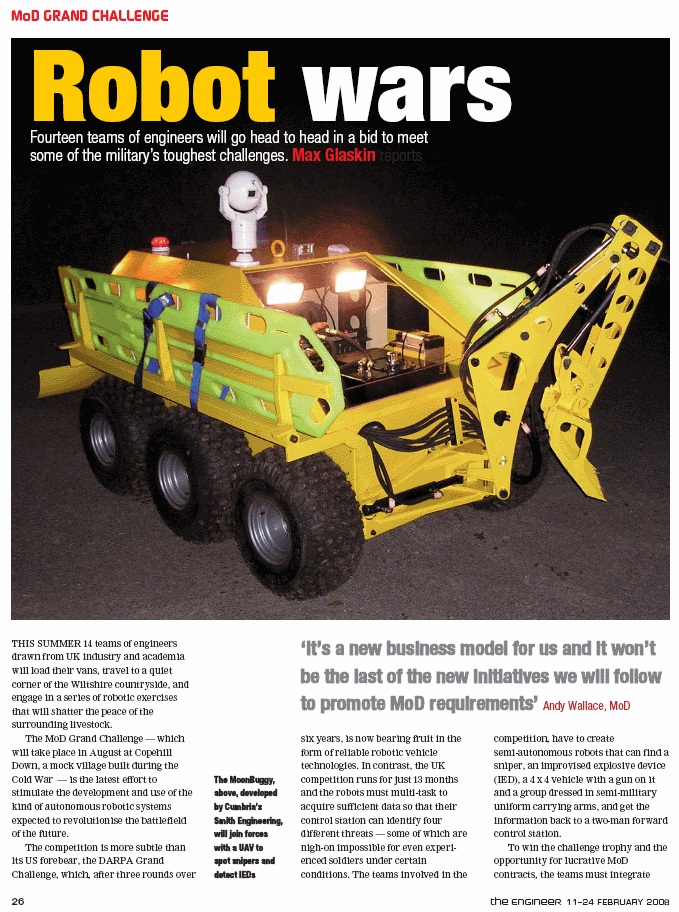 The rest of the article can be downloaded here