The dual rotor helicopter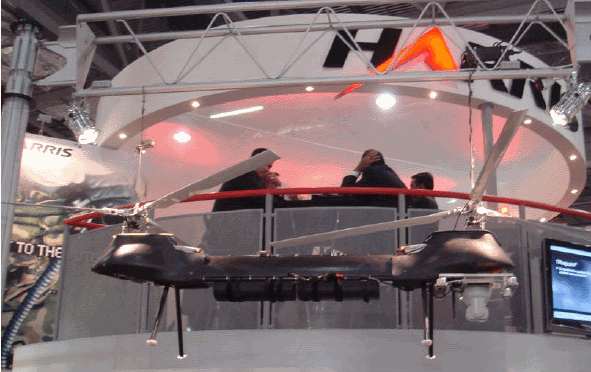 The dual rotor helicopter at the Harris stand at DSEi 2007
Medical rescue and transportation vehicle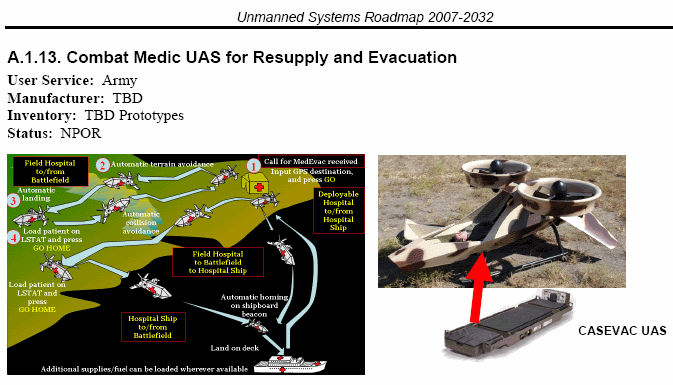 From http://www.acq.osd.mil/
Hirobo CH47 Chinook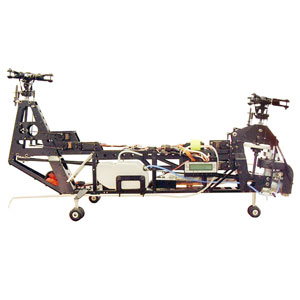 from http://www.modelhelicopters.co.uk/acatalog/info_8965.html
Hirobo has modified the bird with a new main frame design, larger tank, additional body style (CH-47 Chinook - item number 0406904), and updated heads and swashplates. Controls are now electronically mixed via Hirobo designed control system included with the kit. A 3 axis gyro is also included. No more complicated mechanical control system. The starting system is changed to the shaft type like that of the Sceadu and Freya series.
Dragonfly Pictures unveils tandem-rotor DP-6 UAV
17 September 2007, by Peter La Franchi
from http://www.flightglobal.com/news/articles/dragonfly-pictures-unveils-tandem-rotor-dp-6-uav-216798/
Harris Corporation and Dragonfly Pictures have unveiled proposals for a wide-area surveillance network using a combination of ground-based sensors and the latter's DP-6 " Whisper" tandem-rotor unmanned air vehicle, with the system being pitched for border surveillance and area denial missions in the Middle East.
Dragonfly Pictures president Michael Piasecki says the electric-powered DP-6 would effectively be used as a " bird dog" in the proposed architecture.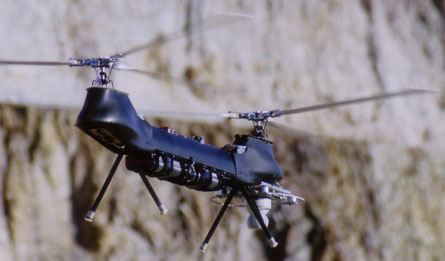 © Dragonfly Pictures
The vertical take-off and landing UAV would be deployed in a cradle system fitted to either the roof of a command-and-control shelter for the network, or on a ground vehicle. This would contain electric couplings to charge the UAV's batteries and provide constant data on the status and condition of the sensor network, allowing automatic deployment as intruders are detected.
Once launched, the UAV would fly at speed to an alert area, before descending to low altitude to capture imagery at slant angles as low as 30deg to positively identify an intruder with its high-definition TV sensor. The system is intended to ensure persons detected can be captured, rather than killed, Piasecki says.
The DP-6 is capable of flying to within 500ft (150m) of a human without being detected, says Piasecki, who unveiled the new design at the DSEi show.
This will enable operators to identify an individual and gather data on their intent, he says, rather than the restricted identification opportunities provided using current fixed-wing UAVs, which are largely limited to overflight during surveillance operations.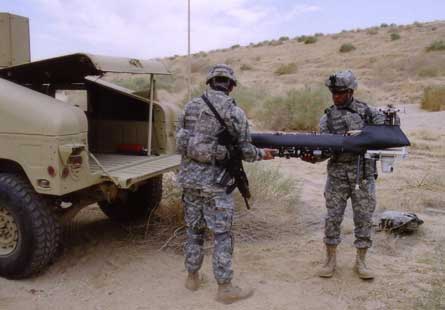 © Dragonfly Pictures
Piasecki says the developmental DP-6 design stems from a combination of work undertaken in conjunction with the US Defense Advanced Research Projects Agency and a company-funded effort. Several demonstrators are flying, with one of these already having accumulated 50h in the air. Two aircraft have already been sold to an undisclosed US defence contractor, he reveals.